Webinar
International Conference on Migration & Sustainable Development: Opportunities, Challenges and the Way Forward
Published on June 26, 2023
Details
Event Date
December 15, 2023 12:00 am (IST)
Event Venue
Location - Tata Institute of Social Sciences (TISS), Mumbai
The 2030 Agenda for Sustainable Development acknowledges migration's contribution to sustainable development and includes migration as a topic that touches on all of the Sustainable Development Goals (SDGs). Furthermore, the SDG's tagline, "leave no one behind," makes it clear that inclusive sustainable development must include migrants. At least ten of the 17 goals have indicators and targets specifically related to migration or mobility. Countries now face a variety of additional migration data issues and reporting requirements as a result of the inclusion of migration in the 2030 Agenda. In addition, this offers a significant chance to enhance migration data. The 2030 Agenda for Sustainable Development acknowledges mobility for migrants and their communities, is a significant engine of sustainable development. With the transfer of knowledge and financial resources, it improves the lives of communities in their countries of origin and brings about considerable benefits in the form of skills, a stronger labour force, investments, and cultural variety. The advantages of migration should not just be viewed in terms of what immigrants can provide to a particular region. The connection between migration and development is far more nuanced than previously thought; migration will depend on the political, social, and economic developments in possible destination nations. Poorly managed migration might also have a detrimental effect on development (endangering communties and migrants). Communities may be strained and migrants may be put in danger. Migration is a multidimensional phenomenon that cannot be addressed by one area of government policy alone, according to the Global Compact for Safe, Orderly and Regular Migration. In order to ensure that migration and migrants' needs are taken into account across all policy areas, laws and regulations, from health to education and from fiscal policies to trade, IOM adopts a whole-of-government and whole-of-society approach to migration governance.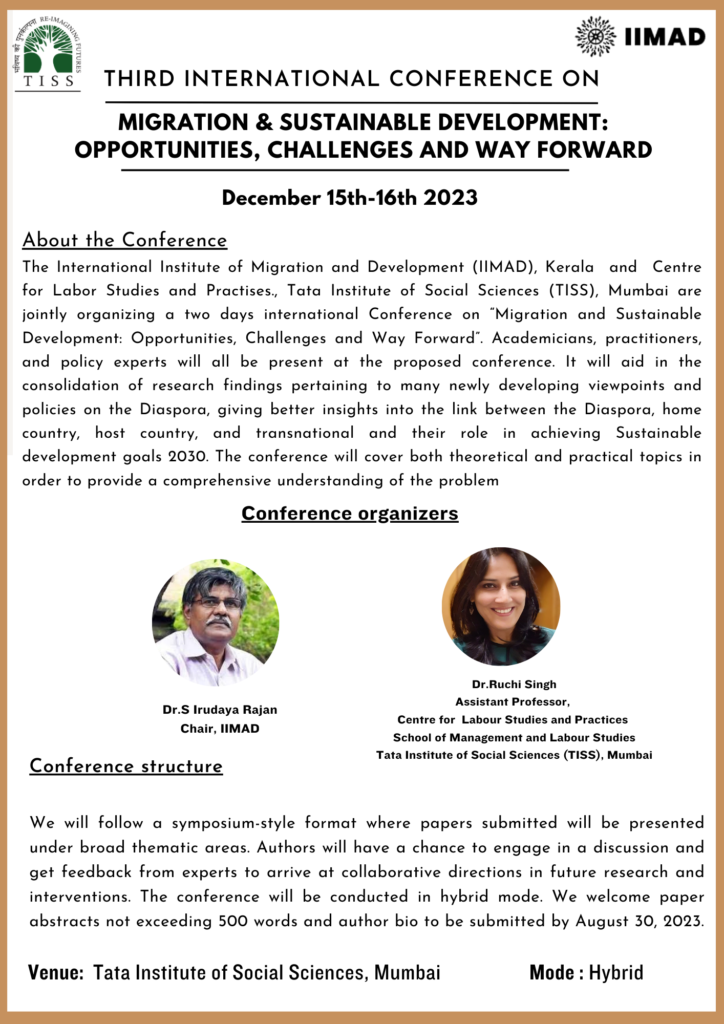 About the Conference
Centre for Labour Studies and Practices, Tata Institute of Social Sciences (TISS), Mumbai and International Institute of Migration and Development (IIMAD), Kerala are jointly organizing two days international Conference on "Migration and Sustainable Development: Opportunities, Challenges and the Way Forward". Academicians, practitioners, and policy experts will all be present at the proposed conference. It will aid in the consolidation of research findings pertaining to many newly developing viewpoints and policies on the Migration and Diaspora, giving better insights into the link between the migration, diaspora, home country, host country, and transnational and their role in achieving sustainable development goals 2030. The conference will cover both theoretical and practical topics in order to provide a comprehensive understanding of the theme. Conference themes and sub-themes are listed below. All related pertinent themes and issues are welcome, though.
Tentative Sub-Themes
Migration and Sustainable Development Goals
Migration and Green Economy
Return Migration and Sustainable Reintegration
Invisible and Undocumented Workers
Migration and Development Strategies at Natioanal and International Level
International Labour Standards and Conventions
Diaspora, Remittances and Development
Migration and Global Culture
Politics, Racism, Citizenship
Methods and Data in Migration Studies
Conference Organizers
Dr.Irudaya S Rajan
Dr.Ruchi Singh
Conference structure: We will follow a symposium-style format where papers submitted will be presented under broad thematic areas. Authors will have a chance to engage in a discussion and get feedback from experts to arrive at collaborative directions in future research and interventions. We welcome paper abstracts not exceeding 500 words and author bio to be submitted by August 30,2023.

Abstracts will be assessed based on their originality, innovation and methodological robustness. Participants will be expected to submit their complete manuscripts (or, in exceptional cases, an extended conceptual note) before the conference. This is done to ensure that panelists for the thematic areas are able to read and prepare feedback on the papers. In addition to thematic sessions, the Conference will have a keynote and invited plenary speakers by researchers and practitioners who are pioneers in their fields.
Outcome: We anticipate two main deliverables. 1) We intend to invite selected papers to be submitted for a Special Issue in a top peer reviewed journal that covers migration and sustainable development. 2) We aim to start an online research consortium that will facilitate an ongoing dialogue and exchange among academic peers, stakeholders and practitioners. This online (open-access) platform will host op-ed pieces, blogs and notes from the field by experts and thought leaders in migration and its association with sustainable development.
| | |
| --- | --- |
| Abstract submission portal open | June 26th June – August, 30th, 2023 |
| Acceptance Notification | 30th September, 2023 |
| Complete manuscript submission | 1st December, 2023 |
| Conference Registration begins | 15th September, 2023 |
| Conference Dates | 15th – 16th December, 2023 |
Abstract submission link: https://forms.gle/Kktsmerame8KzXQ29
Registration Details
Conference Registration Fees
| | |
| --- | --- |
| Categories | Amount |
| Practitioner | INR 5,000 |
| Academician | INR 4,000 |
| Students | INR 1,000 |