Webinar
Webinar series on "Perceptions and Realities of Academics Abroad"
Published on October 26, 2022
Details
Event Date
December 28, 2022 7:00 pm (IST)
Event Venue
Online - Webinar
The highlights of the series include
• How to decide what is best for you?
• Common perceptions v/s reality
• Preparation before you set sail on the journey
• What to expect out of the university
• How to balance between work and studies
• Opportunities after you complete your studies
• What Next?
Date: 30th November 2022
Time: 7:00 p.m. to 8:30p.m.
Medium: Google Meet
Introductory Address: Dr. S. Irudaya Rajan (Chairman, IIMAD)
Main Speaker: Aneeta Shajan
Valedictory Adress: Rahul I. (Board Member, IIMAD)
For more details or to register, contact
Rahul I., Coordinator
The International Institute of Migration and Development
Website : www.iimad.org
Mob : + 91 6282894036; Email: rahul96iimad@gmail.com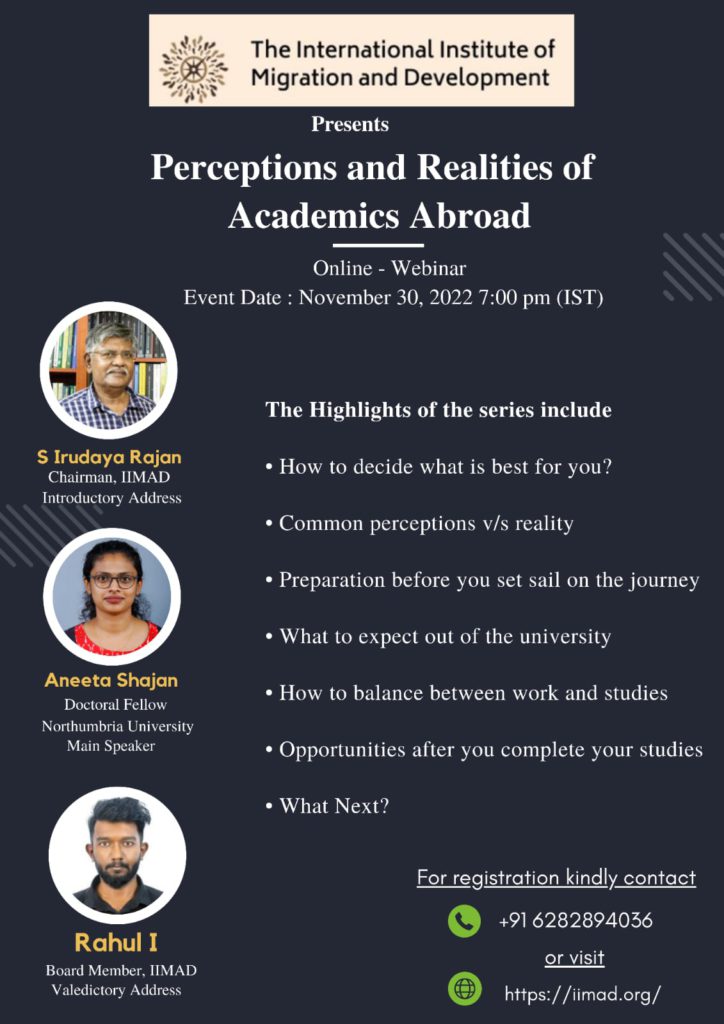 Chairperson
S Irudaya Rajan
Chair
Introductory Address
Aneeta Shajan
Invited Speaker
Rahul I
Board Member, IIMAD
Valedictory Address